With the AR-15 as popular as it is, many optics manufacturers have climbed on the bandwagon to produce AR15 scope. The result is so many choices, that it can be hard to pick the right AR15 scope for your rifle. So which is the best? The fact is that's a hard question to answer. Pretty much it will depend on how you'll be using the rifle. Will you be using it for deer or varmint hunting? Is it a ranch rifle? Will you be shooting in competition or is this rifle for home defense? Each of these applications has different optics needs so first, you'll have to know how you'll be using your rifle.
Your next decision will be about the AR15 scope features. Do you want a red dot scope? Do you want a non-magnified scope or one with magnification? And if you want magnification, how much do you need? If you are shooting competition with your rifle fixed, high magnification may work great. But if you shoot standing, you could lose your target with any wobble plus you'll have a smaller field of view. You will need to answer these and many more questions, including what is your budget, as you shop for your AR15 scope.
Best Red Dot AR15 Scopes
Aimpoint PRO
The Aimpoint PRO Patrol Rifle Optic is an always on – always red scope, running for up to 3 years on one battery. No fumbling for switches to turn it on, a nice feature when you need to take aim in a hurry. Its 2 MOA red dot provides accurate and fast targeting at all distances.
This AR15 scope has a front lens with a special coating that allows use with night vision glasses. Both rear and front lenses are recessed for protection against scratches, impact damage, and fingerprints.
The low $400 price range puts the cost of this model within reach of most shooters. The one common complaint is that the red dot is not very bright, almost disappearing in bright sunlight.
Leupold Mark 4 4x24mm
The Leupold Mark 4 4x24mm High Accuracy Multi-Range (HAMR) AR15 scope is designed for mid-range accuracy and fast target acquisition in any lighting condition. This scope features the illuminated and matched CM-R2 reticle, which is even visible without illumination or the use of batteries.
A nice feature is that you can use this scope with most of the popular types of tactical rounds as it wasn't designed with one type of ammo in mind.
At only 14.8 ounces and 5.7 inches long, it is the perfect sight for a short barrel rifle. The big negative for this AR15 scope is the price point which is around $2,000. Also, for an AR15 scope this expensive, it does not come with lens covers.
Best Tactical Variable AR15 Scopes
Bushnell AR BTR-1 BDC Reticle AR-223
Bushnell is a manufacturer that comes up often when discussing quality rifle scopes. The Bushnell AR Optics FFP Illuminated BTR-1 BDC Reticle AR-223 Rifle Scope is a first focal plane scope that gives you great performance in low light. For great accuracy, turret clicks are .1mm. Rugged and sturdy, made from anodized aluminum, this AR15 scope is hard to scratch and rust-proof. All the openings are sealed to protect it from the elements. With a price around $200, this scope is affordable for shooters who use their rifle often. There are two negatives to consider. The scope's great performance in low light makes it not so good in bright daylight, with the reticle almost disappearing at 1x magnification. Plus, it is not covered by a full lifetime warranty.
Simmons Predator Quest
The Simmons Predator Quest TruPlex Reticle Side-Parallax Adjustment Rifle Scope, with 4.5 to 18x magnification, with a price about $200, is another great choice in the line-up of variable AR15 scopes. The optics are multi-coated to provide clear and sharp images.
It is both fog proof and waterproof. Included in the package is a 3-inch sunshade. The fingertip side adjustment makes it easy to adjust parallax, even on close targets. This scope will give you solid performance in most conditions.
The only thing you need to be aware of is that adjusting your scope up will actually cause your round to hit lower. Because many other scopes are opposite, this can be confusing. And because there is no standard for this in the industry, this is not a defect but a choice you can make.
Best Magnification AR15 Scope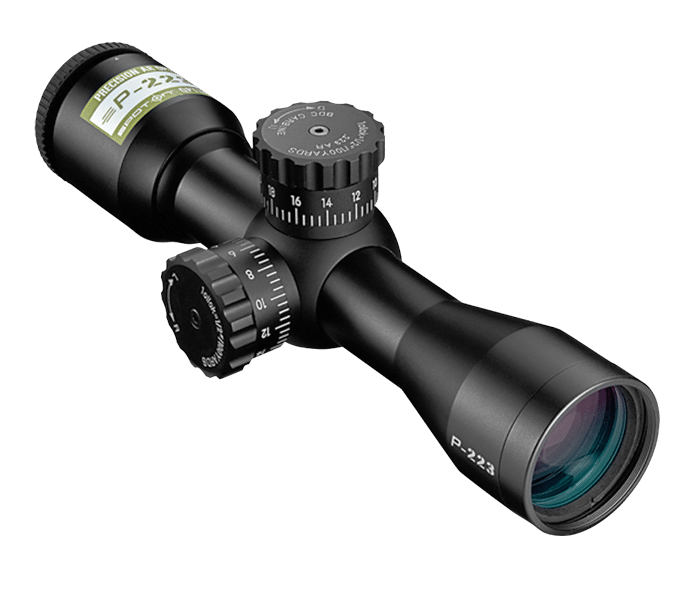 If you are looking for an AR15 scope for long range shooting, it will be hard to beat the Nikon P-223 3×32 Matte BDC Carbine Rifle Scope. It's easy to zero and user-friendly. It was designed for use with .223 Remington/NATO 5.56 rounds and the sight works great in hunting or tactical situations. If you are using different rounds, the scope has a 100 MOA range so you can adjust it for you specific ammo.
The reticle has markings at 400 and 600 yds. with a 200 yard cross-hair. Multi-coated optics provides a clear and bright target. O-ring sealed and nitrogen-filled make the scope fog proof and waterproof. Adjustments are made in ¼ MOA and the turrets have zero resets. Simply press on the turrets and then release. This AR15 scope has a large eyepiece and excellent eye relief.
With pricing under $200, it is one of the least expensive AR15 scopes out there. The only negative is a common complaint and that is the lack of good customer service from Nikon.
Typically, if you'll be shooting long range, you'll want a variable range AR15 scope. For short range targets, most shooters are happy with a red dot optic. If you are in law enforcement, you might be looking at a tactical scope. When it comes to choosing a scope for your AR-15, you need to consider how often you shoot, your type of shooting, and the usual situation and conditions you shoot in. Once you've answered these questions, you'll be ready to go out and buy your AR-15 scope.