The story of the Aimpoint Micro T 1 started in 1974 when several Swedish businessmen started to look for ways to improve shooting accuracy. The result is the Aimpoint red dot sights. By working with marksmen, experienced hunters, and the military, these sights have continued to improve since the first release in 1975. So if you are looking for a red dot sight that has it all, you don't have to look any further than the Micro T-1 Red Dot Sight.
Mount the sight and it will impress you with the short amount of training time you need. It's 1x optic has both unlimited field of view and unlimited eye relief. The parallax-free sight isn't affected by extreme weather conditions due to its durable and rugged construction. You'll increase your hit probability while lowering the consumption of ammunition. The scope is manufactured with no hazardous materials and its laser emission won't harm your eyes. And on top of all this, add a battery whose life is measured in years.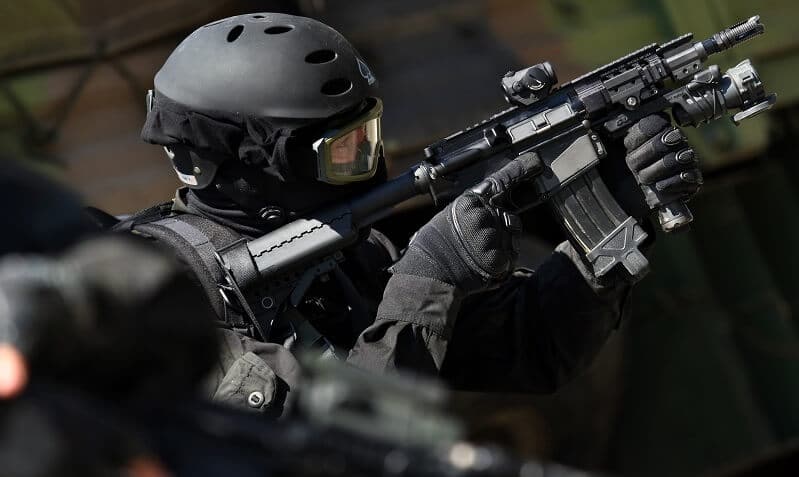 Pros and Cons of the Aimpoint Micro T 1 Red Dot Sight
Pros
1. Hand Built
Built by hand, each Aimpoint Micro T 1 Red Dot Sight carries its own ID number. During the manufacturer, it goes through some of the toughest testing in the industry, plus a multitude of quality control steps.
2. Rugged
The design of the Micro T 1 Red Dot Sight means you can use it in any situation, regardless of the weather and the abuse. Aimpoint even claims it will survive an IED blast and a helicopter drop. And not only survive but also maintain its zero. Its black body, made from extruded aluminum, has a matte black finish that reduces glare. And with specs that say the sight is waterproof to 80 feet, there are no fears about getting it wet.
3. Many Applications
Mounts are available to use the Aimpoint Micro T 1 Red Dot Sight with handguns, sub-machine guns, shotguns, rifles, and carbines. It comes mountable on a Picatinny rail which makes it easy to move from pistol to rifle to shotgun and even to a crossbow.
4. Easy To Use Brightness Knob
The brightness knob on the Aimpoint Micro T 1 Red Dot Sight, located on the right side of the sight, is easy to control, even with gloves on. There are twelve levels of brightness which range from very low for use with night vision to oh-my-gosh-that-is-bright! Even in desert brightness, the red dot is clear and easy to see.
5. Manual Adjustment Turrets
The elevation and windage turrets have caps that are their own tools for adjustment. No need to carry a small screwdriver or any other tool. Remove the cap by hand, flip it over, and plug it into the knob. Adjustment markings are on the inside of the cap. When done, lift up the cap, flip it back over, and replace it onto the knob.
6. Long Lasting Battery
With a battery that is projected to last five years, you don't have to worry about the laser shutting down.
7. Lightweight
The Aimpoint Micro T 1 Red Dot Sight weighs only 3.7 ounces.
Cons
The sight comes with rubber lens covers but they are not attached, making them easy to lose. While you may not cover the lens until finished shooting for the day, on a windy day with dirt or sand blasting around, you might want to protect your scope's lenses between shots. Some shooters felt that fishing the covers out of their pockets each time they wanted them can be annoying.
One of the features promoted about the Aimpoint Micro T 1 Red Dot Sight is that its long battery life means leaving it on all the time. While this sounds good, the result is a hint of red always coming off the sight. Depending on your situation (combat?), this might not be ideal.
Shooters might find the glass in the Aimpoint Micro T 1 Red Dot Sight a bit distracting with its slight green tinge.
Because the Micro T 1 is a 1x sight, it can be difficult to identify targets that are more than about 100 yards away. The actual optimal distance depends on the shooter's eyesight. While it is possible to couple the sight with other devices for long distance shooting, you need room on the rail.
While the Aimpoint Micro T 1 Red Dot Sight can be used with night vision and thermal gear, the sight itself does not have any of these features. But, shooters can piggyback it onto night vision or thermal optics.
Who Is the Aimpoint Micro T 1 Red Dot Sight Best for?
The Aimpoint Micro T 1 Red Dot Sight is perfect for anyone who needs one for close range shooting. A great compact sight, it works well on any tactical rifle. Because it works so well in close combat situations, it is also very suitable for use on a shotgun. This is also the perfect sight for anyone who participates in Three Gun and IPSC competitions where the shooter has to make his way over an obstacle course. Where other red dot sights can be very bulky, this small, lightweight and rugged sight is a perfect alternative.
Whether used for sporting or in a firefight, the Aimpoint Micro T 1 Red Dot Sight shines. Its ease of use might make a difference for the shooter, whether in combat or in a competition. For anyone who wants a sight that will give them pinpoint accuracy and fast target acquisition in a small package, they'll find it in the Aimpoint Micro T 1. At only 1.6 inches wide and 1.4 inches high, this red dot sight is one of the smallest available today. With its long battery life and no need to turn it on and off, the Aimpoint Micro T 1 Red Dot Sight is ready for action when you are.