Leupold has been manufacturing rifle scopes since the 1960s. The Leupold VX 2 is their latest device and is also the best they have made so far. It is made to resist snow, fog, and moisture. That means it can be used in almost all weather conditions. The company is known for manufacturing sturdy and high-quality scopes, and this one is not an exception.
This scope is made of sturdy aluminum and is filled with a blend of inert gases. To show their confidence in the product, the manufacturer offers a lifetime warranty on all purchases. In case it gets damaged or proves to be defective, you will not lose your money.
This Leupold VX 2 review will give you in depth information on this device and will cover the key advantages and disadvantages of the device. That way, you will be able to make an informed decision on whether or not you should purchase this product.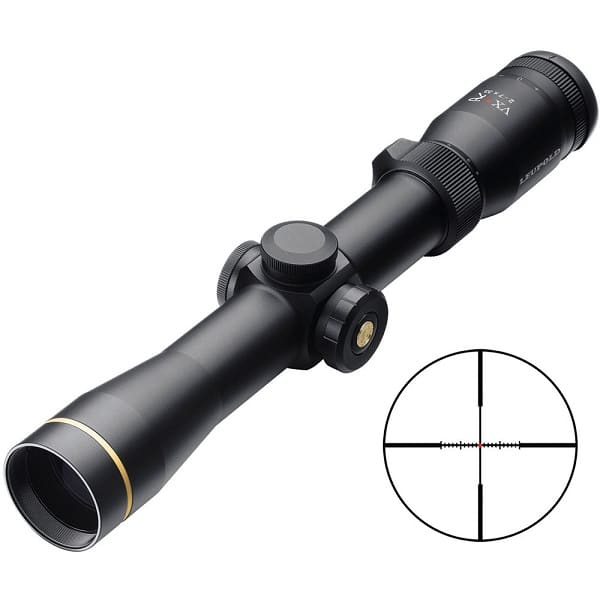 Leupold VX 2 Specs
Weight: about 11 ounces.
Dimensions:14 x 3.2 x 3 inches.
Reticle: Duplex.
Eye relief: 3x (4.7 inches), 9x (3.7 inches).
Diameter of tube: 1 inch.
Length of tube: 5.6 inches.
Magnification: 3x to 9x.
Finish: silver and matte black.
Accessories: Cover.
Adjustment click value: ¼ MOA.
Adjustment range: 56 MOA.
Main Features: Index Matched Lens System to give 94 percent light transmission, darkened edges to reduce glare, 5 different reticle styles, click adjustable turrets, snow, and water resistant lenses.
Pros and Cons of using Leupold VX 2
Pros
1. Delivers Clear Images
This device stands out from the competition because of the bright and clear images it produces. It is designed with multicolored optics, so you can use it even in poorly lit areas. Besides, it has high light transmission of roughly 94 percent. Image quality is further improved by the darkened outer regions of the lenses. This feature serves to increase contrast.
2. Is very high in quality
The manufacturer has built a reputation for developing high-quality products. The Leupold VX2 is made of 6061-T6 aluminum. A blend of argon and krypton gases is used to fill the scope, and this makes it waterproof and resistant to fog. Many competitor products are made using nitrogen gas and, therefore, have inferior resistance to these elements.
The device is made using lead-free lenses. The glasses have scratch-resistant treatment to prevent visible damage.
3. Is well-priced
The device is definitely not the cheapest on the market. However, if you consider the features and benefits it offers, it becomes clear that the gadget is a bargain.
It also comes with a lifetime warranty to reduce your overall risk. Under the warranty agreement, the manufacturer will repair or replace the product without asking for a warranty card. This is one of the best warranties available for scopes. That said, the company is known for manufacturing high-quality scopes, and this warranty is only meant to assure you that it is worth its price.
4. Offers a High-Quality User Experience
This is an improvement of previous models. The turrets can be reset to zero and can easily be adjusted in the field. They can be set through 1/4MOA adjustments. You will hear a click sound with every adjustment and can, therefore, set the device accurately.
The manufacturer also included Torx mounting fasteners to ease the process of loading the scope on your rifle. These fasteners also help to prevent movement of the scope because of recoil.
If you are working in high fog or wet snow, the device will not be affected in any way. It will not get coated with fog or moisture since the lenses are made to resist both elements.
There are several models of the Leupold VX 2 and your choice will determine the type of reticle you get to use. The Duplex reticle is standard on most devices. This is because it has thicker crosshairs and additional thinner lines in the center. As a result, users enjoy greater accuracy aiming at their targets.
Cons
Like all other products, the Leupold VX 2 is not flawless. One of its biggest drawbacks is the high price. Some users may not be willing to spend about $200 on a scope.
The single piece main tube is too narrow, and this makes it unsuitable for long-range tactical shooting. Also, the device weighs slightly over 11 ounces. Although this is quite light, many competitor products weigh around 8 ounces.
Who Is It Meant for?
The scope is designed short-range shooting. Hunters will particularly enjoy using this device since it is highly accurate and can work in all kinds of weather. Hunting season is often in winter, and the weather can affect the lenses of many scopes. This one will not be affected by wet snow or fog. It is also easy to adjust while in the field. The click sounds make it easier to gain accuracy when adjusting the turrets.
As mentioned before in this Leupold VX 2 review, the scope will not work well for long-range tactical shooting. This is mainly because of its narrow tube.
Price
From this Leupold VX 2 review, you have already seen that the scope is not cheaply-priced. The cost is, however, fair. You can save some extra money on your purchase by going for used scopes. Here are the prices on various websites:
Verdict
Leupold has upheld their standards with this device. As noted in this Leupold VX 2 review, the device is among the most expensive on the market. This is because it has been designed with great attention to detail and has features that many competitor devices lack.
When using it in poorly lit environments, you will be impressed since it will pick up every detail clearly. You will also appreciate the ease of use. It can easily be adjusted when on the field. We hope that this Leupold VX 2 review has helped you decide whether or not the device will suit you.