Another great optics company making great rifle scopes, Sightron scopes comes to us as a humbler manufacturer than some of the previous riflescope companies we've talked about. Humbler in name, but not in style, though. While their brand had its birth in 1993, in just 23 years this scope and rifle optics designer has managed to assert its position as a leading competitor on this market.
Today, we're here to present you with a complete guide to this awesome rifle optics manufacturer and its top-of-the-line scopes. On their website, the company states time and time again that their Sightron scopes are simply the best at acquiring targets and making sure the shooter never misses. We're going to look at their scopes' specs, to see if that's true. Without any further delay, we suggest you put your eye on the target and read on!
About Sightron Scopes
There isn't much info out there about Sightron Scopes. This may be on account of their serious model of doing business. Or maybe they just wanted to let their exquisite scopes speak for themselves. Either way, we know very little about the company itself, apart from a few simple facts.
Sightron Scopes began way back in the year 1993, as we've already mentioned. Over time, the company grew into what we see today. A company made by sportsmen to provide a solid range of equipment for professional and amateur shooters everywhere. While their incredible scopes have not been the subject of one-too-many reviews, they sure have made themselves known as a very serious company. Specifically, many professional sport shooters have employed Sightron scopes.
Today, although there's not much talk around the internet about Sightron, there are clearly a lot of buyers for their products. We've asked ourselves why this is. Looking at their official catalog, you get the feeling that they put great care into making their scopes as best they can. You can see this by looking at the general features of Sightron Scopes presented below.
Sightron Scopes Specs
Like all serious companies that make rifle scopes, Sightron also have a few stand-out features that make their scopes worthwhile. Here's a list:
The locking turret system. All Sightron scopes have a locking turret mechanism that enables them to immediately lock in place at that exact adjustment. This is especially good for harsh environmental conditions. The last thing you'll want to do when out in the wild and humid forest is unintentionally change your scope's knob positions.
The FAST system. This is basically a tuner that gives you the ability to make very fine adjustments to your sight. By enhancing the details of the field of view and stabilizing the focus, you will see a target four times clearer than with any other type of rifle scope.
Waterproofing. All Sightron scopes are waterproof. This may be a common feature with many scopes, but with Sightron, it's especially good since it combines very well with all the other neat specifications of the Sightron rifle scopes.
Incredible resistance. A Sightron scope in and of itself can be a lethal weapon. That's because the outer case is so hard, it would really take someone with great force to even make a dent in it. This rigid outer shell is made to keep the scope always in focus, no matter through how many harsh conditions you may put it to the test.
Nitrogen filling. Being waterproof, you probably already figured that Sightron scopes are also nitrogen filled. Nitrogen is almost always used with rifle scopes in order to fog proof them. If they were filled with air, it would be very easy for fog to form inside the scope. Nitrogen eliminates that possibility.
Customizable settings. For each purchase made directly from the company's shop, they offer to customize your scope to fit you, your sport, and your rifle. You can change the turret, a few parallax options, and the reticle. Sightron reticles are incredibly varied: from simple crosses to complex models that need an instruction manual to be understood.
Lifetime warranty. Sightron scopes, like any reputable brand selling rifle scopes, offer a lifetime warranty for their products. This warranty is applicable in most cases in which the scope becomes unusable on account of something that they had guaranteed worked. For instance, say you buy a Sightron SIII 6-24×50 now and 40 years from now you drop it into a puddle of mud. If any drop of water gets in, Sightron will most definitely replace it, no questions asked.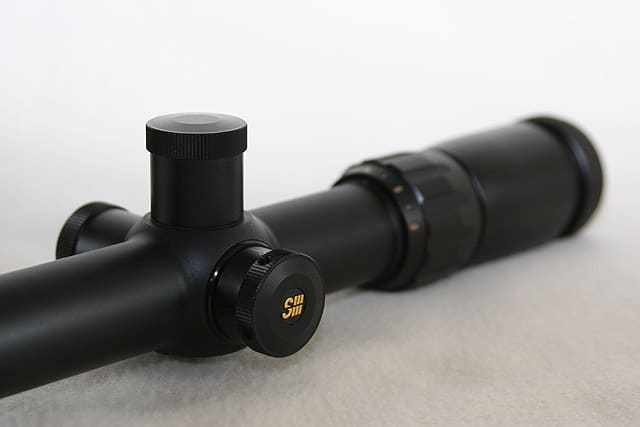 Other Useful Info about Sightron Scopes
Apart from the main features of Sightron Scopes listed above, you may want to know more specific info about the scope models themselves. We've also made a list of these interesting facts:
Sightron Scopes for sale to look for. These are the most amazing categories of Sightron scopes that you should most definitely watch for: Sightron SV series, Sightron SIII LR series, Sightron SIII series, Sightron S-TAC series, Sightron SII Big Sky series, Sightron SII series, Sightron SIH Series.
Sightron scopes that have the same system. The following Sightron models have the same sighting systems: the SII Big Sky, the SII, the S-TAC, and the SIII LR series.
The advantages of the Big Sky. The Big Sky has a bigger eye relief, better knobs for the turret, and an adjustable focus that can go down to as little as 10 yards.
The Zact-7 Revcoat. Look out for the Sightron Scopes labeled with a Z7 symbol. These make light transmission a dream, with levels as high as 90 to 91%.
Conclusion over Sightron Scopes
While not as famous as other scopes (Burris, Olympus, or Leupold), Sightron scopes do still manage to pack a major punch. Simply put: they can be just a reliable, at a slightly more affordable price tag. Don't be afraid to pick up your Sightron scope today! We guarantee you will not regret it.